Blog
25 oct. 2013
Environmental threat
Empty ocean full of trash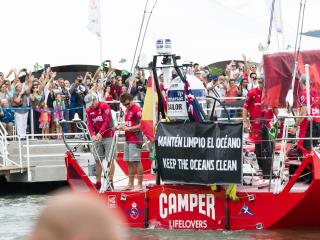 Photo credit: Ian Roman/Volvo Ocean Race
Last week, the world faced again a painful mirror by the article about Newcastle yachtsman Ivan Macfadyen. The naked truth is that we are destroying our oceans! While racing from Melbourne to Osaka exactly ten years after his last participation, Macfadyen encountered silence and trash. An empty ocean, no bird life, callous fishermen and an amount of trash beyond imagination. The main question is how to stop and solve this environmental crime…
He also describes his sad experience of sailing from Osaka to San Francisco. 'After we left Japan, it felt as if the ocean itself was dead,' Macfadyen said in the article. He tells about the legacy of the tsunami that hit Japan a few years ago, the plastic garbage, the absence of life and about the fear of using the motor in the middle of the ocean, due to the risk of entangling the propeller in pieces of rope and cable.
Back home and still in shock of his horrifying trip, Macfadyen is looking into the possibilities of ocean saving actions. According to the article in the Newcastle Herald, Macfadyen plans to lobby government ministers and he will approach the organizers of Australia's major ocean races in order to involve participants in an international scheme that uses volunteer yachtsmen to monitor debris and marine life. The Volvo Ocean Race ran a 'Keep the Oceans Clean' campaign in the last edition.
In fact all sailors around the world should support this battle against losing our oceans in some way. We cannot just use the sea for our fun and run away from the problems, but which options do we have? For international yachties, please have a look at 'The clean oceans project'. For Dutch sailors, please learn about the main initiatives in the Netherlands by exploring the website of 'Zwervend langs Zee'. I am sure there will be more projects and hopefully more ideas, please share them with me.
I wish that this serious environmental threat would get the same amount of media exposure and interest as the (in the meantime) international discussion about the Dutch tradition of 'Zwarte Piet'. The governments, science, international organizations and yachtsmen from the entire world should join forces on the highest level to make a difference.
To be continued…
Diana Bogaards
Photo credit: Ian Roman/Volvo Ocean Race
Comment on this article
More Blogs
Nederlands
English