Blog
25 sep. 2013
America´s Cup
"Welcome to the modern America´s Cup"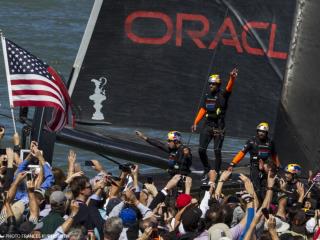 Photo credit: ACEA / PHOTO FRANCES KUPERMIT
High-speed match racing, motorcycle racer look a like athletes, evenly matched 72-foot multihulls, world's premier league of sailors, incredibly close racing and outstanding live reporting from all possible corners…What an amazing show is the 34th America's Cup! And what a great view of the Defender to take the most prestigious and oldest Cup in the sailing sports to the next level of new generation sailing. Thank you Oracle Team USA for giving us a winner-take-all final match.
Despite the two points penalty given by the International Jury days before the start and the search for pace at the beginning, the Americans managed to turn the tide sensationally. From calling themselves the 'underdog', they worked themselves up to being favorite for defending the Cup successfully later today. Their comeback from seven points behind is what you call 'impressive'.
Their wins yesterday caused a tsunami of comments on social media, by the entire sailing community, by people supporting one team or the other. I think that the 34th America's Cup has finally changed the image of sailing amongst a wide audience. Now you can see and hear what's going on onboard of both boats. The excitement, concentration, communication, emotion and interaction, it has all become part of the Cup experience for the audience. Even if you are not a sailor, this Cup makes you want to follow the series, the teams and the sailors. It's simply addictive. Well done media crew of the 34th America's Cup!
According to yachting journalist Bob Fisher, Wednesday promises to become the greatest climax the America's Cup has, in its 162-year history, ever known. Defender and Challenger are ready to take on this huge, probably once in a lifetime challenge of the winner-take-all final. Oracle Team USA posted the following words on Facebook: 'It's not over. We've got to finish it off," said skipper James Spithill. 'We've worked very, very hard to come back from where we were. And, the guys want it. You can sense it onboard and you can sense it around the base – the whole team just wants it.'
Emirates Team New Zealand added a video item to show its determination to bring the Cup to New Zealand.
No matter what the outcome will be, I think both teams are winners, as they have made history. They have introduced a new generation sailing spectacle. 'Welcome to the modern America's Cup", as one of the commentators said.
Diana Bogaards
Diabo Sail Reporting
Photo: ACEA / PHOTO FRANCES KUPERMIT
Comment on this article
More Blogs
Nederlands
English