Blog
13 sep. 2013
Welcome to my new website!
Diabo Sail Reporting is the answer...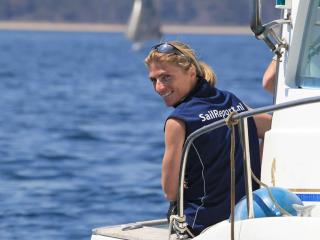 Photo credit: © Eric van Staten
How can I continue my beloved work as sailing journalist in a sports world that struggles with sponsor finding? How can I close the gap between a professional media platform with a defined readership and the marine business? How can I converge my talents, expertises and experiences in one direction? I have asked myself all those questions and the answer is simple: Diabo Sail Reporting. Welcome to my new website!
Ten years of freelance assignments in yachting communications and almost four years of running SailReport.nl have resulted in my new company name: Diabo Sail Reporting. I merge both businesses into one. As off today, Diabo.nl will present my business profile and my new personal sailing blog, in which I comment on global and national sailing news. Sometimes I will be critical, sometimes informative or I will expound my view on matters. Call it the continuation of my SailReport.nl baby in a manageable form or a new course in the rapidly changing world of communications. I agree with both.
In order to explain my change of course, I like to go back in time. It is 2009 and I return from the finish of the Volvo Ocean Race in Russia. My journalistic ambitions are high, very high. I want to make a difference with my own editorial racing reports in the Netherlands, in stead of only publishing press releases, like most of the other Dutch online media do. I want to bring my readers closer to the top sailors and I want to offer all of them a podium under the motto 'Everybody can be a SailReporter'. Dutch insurance company Delta Lloyd and communications agency Hemels van der Hart support my aim to launching the next generation news platform, which comes true at the beginning of March 2010. SailReport.nl is born!
It has been a huge pleasure to work on this project and to run SailReport BV. I enjoyed working as a 'flying reporter' and covered many national and international events and teams. The traffic grew and the feedback was positive. SailReport.nl filled the gap of reporting on yacht and dinghy racing in the Netherlands. However, it turned out to be a massive challenge to find and keep the budget that was needed to run the company according to the ambitious goals that I set. As a result, SailReport.nl has become more like the other online sailing media in the Netherlands. In addition, the growth of social media makes the function of one mutual platform less desired. It has never be my aim to run a sailing website mainly from behind my desk or as a voluntary job, so 'this is it'. SailReport.nl will be moored, but I will continue my editorial blog at Diabo.nl.
I like to thank all our readers and everybody involved for their support. Especially Delta Lloyd, Hemels van der Hart and Magic Marine for making it happen. Also the editors Jacqueline Laumans and Marjolein Brandt, and the photographers Ronald Koelink and Laurens Morel for their hard work. Last but not least, thank you Rick van Wijngaarden for designing this third edition of Diabo.nl and Laurens Morel for creating my new house style.
Personally I still believe in the concept of SailReport.nl. It has great potency, but you need to have appropriate means for the execution. I think the Dutch sailing scene is too fragmented for being successful with a mutual media platform. Sailors, teams, organizations, nautical business, everybody is doing his or her own 'thing' on the internet and the general idea of 'internet is for free' kills many business initiatives.
I leave the challenge to my colleagues in the field and wish them all the best. I look forward to returning to my core business in combination with my new blog.
Hope to see you back on Diabo.nl!
Diana Bogaards
Comment on this article
More Blogs
Nederlands
English